It is easy to judge other people. You take a look at them at this moment, and you determine the trajectory of their life. And if they are homeless or down on their luck, then it can be easy to accuse them of laziness or some other character trait. But perhaps what they need at that moment is an act of kindness. Maybe just one small thing would give them the push to get back on a better life track. Casey Fischer was presented with a choice. She was at Dunkin' Donuts when she noticed that a homeless man was out in the cold, picking up change on the side of the road. When he had got enough, he walked into the coffee and donut shop and started counting the loose change.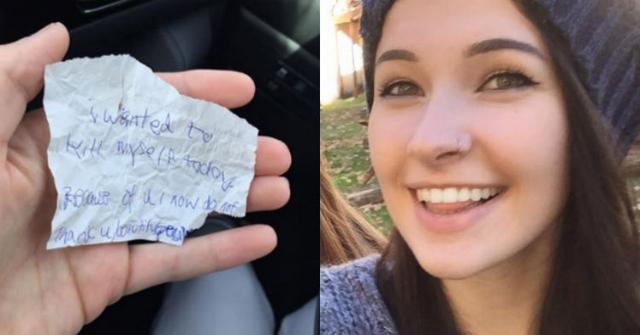 Fischer wanted to speak to him. She approached and started a conversation. But the homeless man was visibly annoyed that she was bothering him. He wanted to be left alone to count his money and contemplate the best way to spend it.
As Fischer recalls, he had just about a dollar in his palm. Because that was not much, she offered to buy him a coffee and a bagel.
But there was a catch. He had to sit down with her and talk. Because he was starving, he submitted to her demand.
As he was chomping away on the bagel and sipping the coffee, Fischer bombarded him with questions. She learned that his name was Chris. And after he realized that she was just trying to be nice, he opened up and put down his defenses. He told her how most people were horribly cruel to him "because he was homeless." They would judge him before they even heard his life story or got to know him. And this made him bitter.
He regretfully told her that drugs had "turned him into the person he hated." He was no longer proud to be the person he was. But when his mother died of cancer, he decided to get on a different path and become a "person she could be proud of."
Fischer said that she listened to Chris for more than an hour. When she was about to leave him, he asked her to wait.
Chris scribbled something onto a piece of paper. And as he handed it over, he apologized for his "shaky hand writing."
But when Fischer opened it up, her face lighted up with shock.
She realized that she had done so much more than buy a man in need bagel and a coffee. She did more than have a friendly conversation. She had listened to Chris, and that small act of kindness had changed his life.
The note read:
"I wanted to kill myself today. Because of U (sic), I now do not. Thank, u (sic) beautiful person."
When we go out of our way to be kind, we can change the world one person at a time. But as the saying goes, change starts with you. Start to change the way you treat others and watch the world blossom.