In a world where we are constantly bombarded with stories about unkind police officers who allow their power to go to their heads, it is great to see stories about citizens who get to enjoy incident free encounters with various police personnel. This is the type of story that takes an unexpected turn and you will definitely want to watch this video in its full entirety to enjoy it for yourself.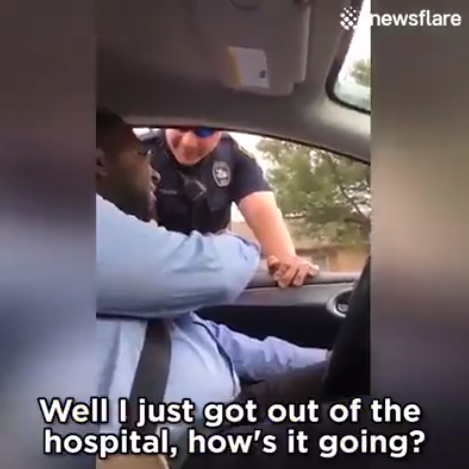 The clip starts innocently enough, as the driver is pulled over and waiting for the officer to make his way towards the vehicle. For those of us who have been pulled over before, this is a very nerve wracking moment and when the motorist realizes that the officer is an old friend of his, the two began to smile and laugh about how long it has been since the last time they saw one another.
The officer lets his friend know that he pulled him over for a very good reason. The man was driving with a child on board and there is no child seat to be found. The driver is very confused when he is told this by the officer and by all appearances, there does not seem to be a child in the car. Eagle eyed viewers will notice something taking place in the passenger's seat that provides a major hint.
When the man insists that he has no child on board, the officer starts to wonder if he is the one who happened to make a mistake. The driver's significant other finally decides to put an end to his confusion and when she holds up what would appear to be a positive pregnancy test, the purpose of this video starts to become crystal clear.