What should a girl wear on her wedding? More importantly when that girl we're pertaining to is already 93 years old? Sylvia Martin recognizes just who to ask –Facebook, of course.
Venues, flowers, music, and cakes – it's a lot for a bride-to-be. Nevertheless, Sylvia, just like most brides, wanted to make sure she chooses the perfect wedding dress for her special day.
This is the day that Frank has waited for a long time. Sylvia had declined multiple proposals from Frank because she's thinking that changing surnames would be disrespectful to her deceased husband:
"A year ago, Sylvia took ill and moved to Canberra to be near her family, and Frank thought all hope was lost."
Sylvia recovered and she also reconnected with Frank, convincing him to move to Canberra so he can be near her. When he cracked the question this time, Sylvia was fortified with the knowledge that she could lawfully keep her surname if she married Frank.
Then the answer was, YES!
In marrying her longtime friend and true love, Sylvia has turned to the world through Facebook to ask for help in choosing the right dress for her wedding day.
Sylvia asked the people on Facebook to vote on one of four choices that she kindly models:
Option 1: A burgundy two-piece dress with long sleeves and a square neckline. A dress that is simple yet elegant.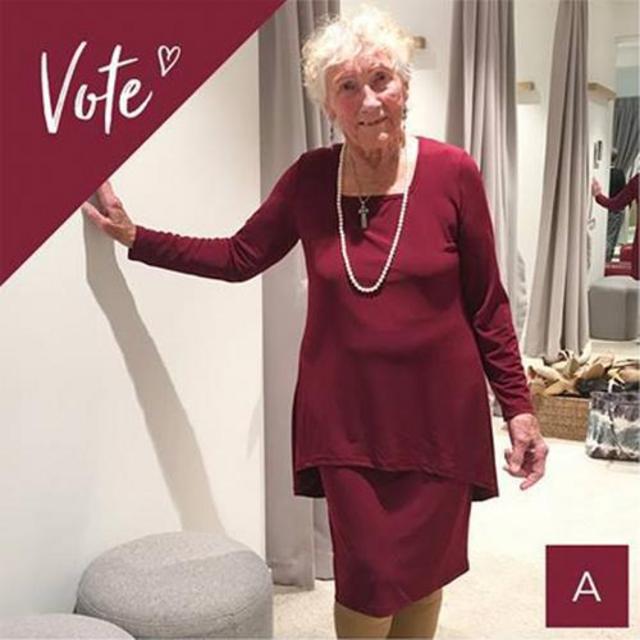 Option 2: A black dress featuring floral print, three-quarter sleeves and a modest V-neck.