Chris Porsz roamed the streets of Peterborough, Cambridgeshire (Great Britain) capturing hundreds of amazing pictures with interesting characters. This was around the 1970s, 80s, and 90s. Now after almost 30 years, Porsz tracked down those same people to recreate the pictures. Thus resulting in a book containing 135 beautiful 'Reunions'.
The book is about the people – from policeman to punks to siblings and friends. Writer Jo Riley wrote the texts containing the stories of the people in the pictures.
Take a look at some of the pictures. Trust me you'll be amazed!
Queuing For The Phone (1981 And 2016)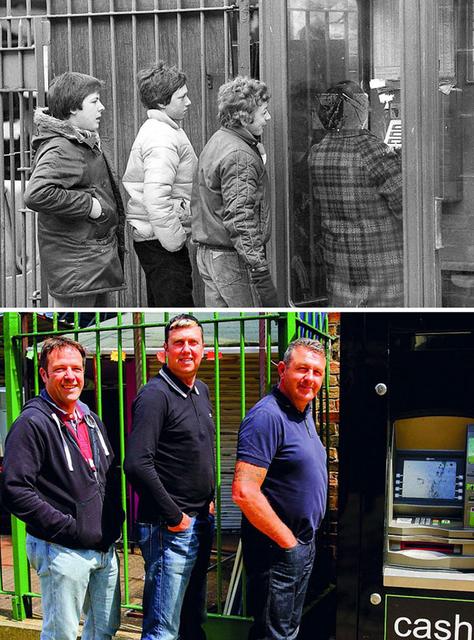 John Morris, Paul Barnard and Andrew Pollard (l to r) were seen queuing up to use the phone in Cattle Market Road. The school friends used to hang out together at weekends and often cycled into the city center on their bikes. Now the phone box has been swapped for an ATM machine. John works locally as a plumber, is married and has two children. Paul, who is married with two children, works for a motor racing team and travels the globe looking after the car's wheels and tires. Andrew, a window cleaner met his wife in Benidorm on an 18 to 30s holiday and moved to her home county of Essex so lost touch with the others. He said: 'I hadn't seen them for around 32 years – it was great to meet up again'.
Star Road (1982 And 2014)
Sisters Maria (left) and Annamarie Plavecz were photographed in Star Road. In 2014 the siblings, who have a Hungarian father, both now work as carers.