A teenage Instagram personality has quickly become an overnight social media influencer with her dazzling and often over-the-top eyebrow trends makeup styles. Sixteen-year-old Instagrammer Hannah Lane @hannahdoesmakeupp from Huddersfield in the United Kingdom has proven her worthiness as an out-of-the-box thinker when it comes to makeup styles.
Her latest trend, of the "Halo Brow" immediately went viral, after posting photos of herself and a mighty eyebrow that seemingly spans the length of her forehead. Hannah's Instagram is filled with memorable photos featuring some insanely wacky designs that are both fun and memorable. She now has close to 40,000 followers on her Instagram.
In addition to her famous eyebrows, Hannah's Instagram account features some really fun makeup ideas including sunset eyeshadow, Santa-hat eyebrows, and movie-inspired makeup trends that are really something to behold. The following 8 photos from this rising star @hannahdoesmakeupp show off her amazing talent, sense of humor, and yes, the infamous halo-brows.
1) The Halo Brow: When you feast your eyes on this eyebrow job, it's hard to argue how ridiculous it looks. Hannah uses this look to critique some of society's expectations when it comes to having the perfect eyebrows.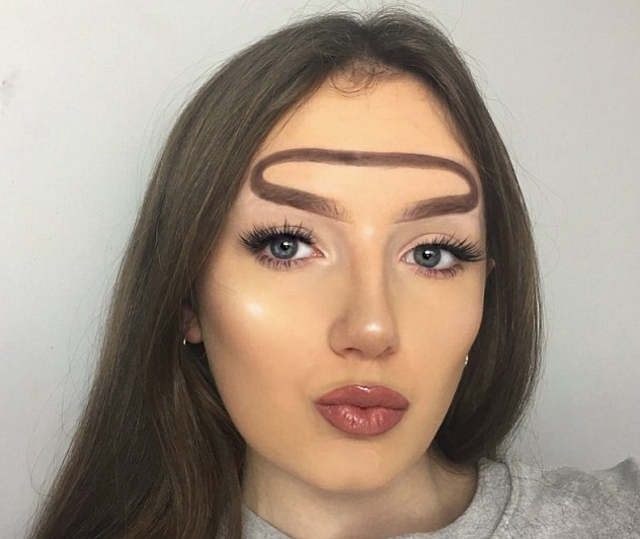 2) The Halo Brow 2: Here from the side, we can see the halo brow working its magic. Really when it comes down to it, this is a fantastic use of makeup artistry to give the illusion that she does indeed have hair on her forehead.