Everyone loves being pampered and wants to feel beautiful. Naturally, as human beings, we tend to take pride in caring for our bodies and part of doing so is visiting salons. Visits are usually very relaxing; we generally end up feeling special, relaxed and enjoy being the center of attention. People also visit salons to hide little imperfections and to boost their self-esteem, feeling more comfortable with others.
One woman went to a salon wanting to hide a dark vertical line across her nail bed. The woman went to a salon where Lisa Harrison Williams works. She wanted Williams to paint her nails darker than the color of the line in order to hide it.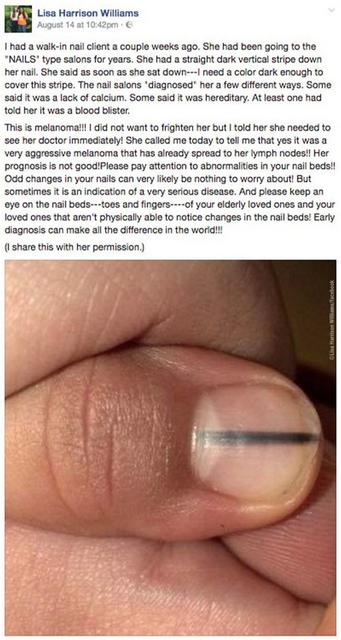 On striking up a conversation with the lady, Williams found out that her client had done it before and other manicurists dismissed the line, writing it off as a normal discoloration due to either a calcium deficiency or heredity factor. However, Williams was not convinced. She asked the woman to visit a doctor for a second opinion and be sure about what was causing the discoloration in her nail.
A few days later, the client called Williams and told her the heartbreaking news that the nail aberration was due to subungual melanoma, which is a type of skin cancer specific to the nail bed.